Alexis Kune
Biography
« To be a klezmer is to bring to life your roots, your ancestors and share your feelings with your public. »
Alexis Kune
Alexis began playing classical piano with Gordana Bacoska when he was six years old.
In his teens he became a keen fan of contemporary music, theatre and French 'chanson' (with a particular love for the music of Jacques Higelin - whom he accompanied when he was just 17 at a performance at the FNAC -and Arthur H) as well as American music, from Louis Armstrong and Duke Ellington to Tom Waits.
This was also the period when he discovered music hall from between the wars, and the tradition of French chanson, listening to the likes of Mistinguett, Josephine Baker, Damia, Berthe Sylva, Fréhel, Cora Vaucaire, Jacques Brel, Paris Combo.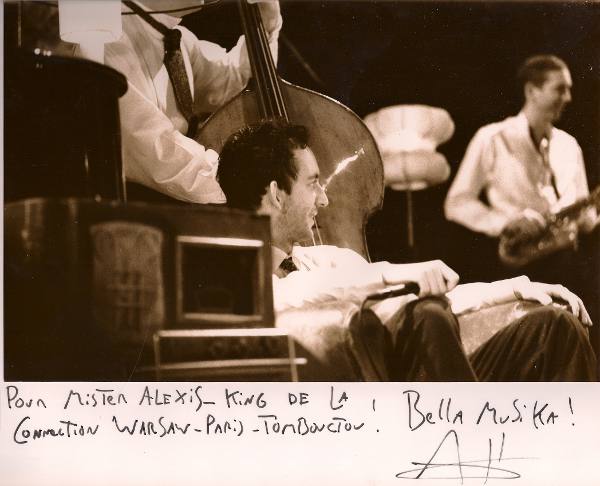 Photo of Arthur H taken by Alexis Kune October 14th 1993 at the Théâtre 71, Malakoff
Fascinated by this world and by French music in general, Alexis began taking photos of his idols during their performances. Thanks to the patronage of Nicole Courtois Higelin, press attachée to the stars, who took him under her wing, Alexis went to many concerts, press conferences and festivals, honing his photographic skills along the way and meeting the artists whose careers he dreamed of emulating.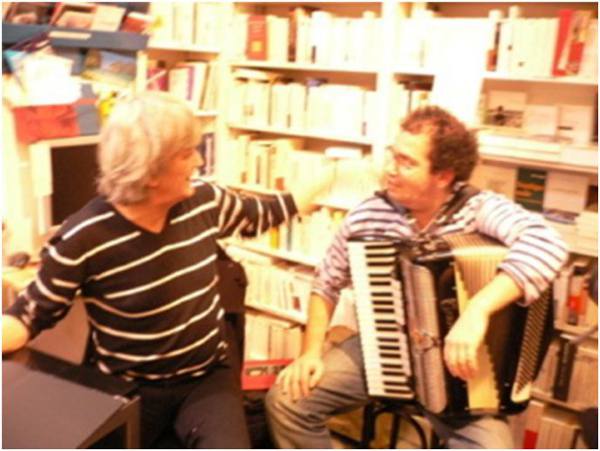 Jacques Higelin and Alexis Kune at the Manoeuvre Bookshop, Paris, December 19th 2008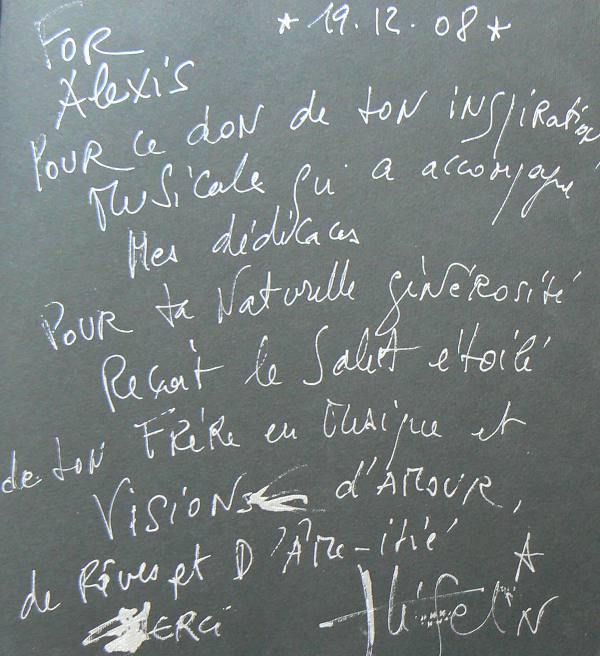 To Alexis For the gift of your musical inspiration, which accompanied my book signing. For your natural generosity Take this star-studded greeting From your brother in music and in visions of love, dreams and friendship Thank you
Higelin
After he left school Alexis went on to take a degree in history at the University of Paris followed by a Masters in European Management.
His degrees in his pocket, Alexis returned to his first love, music.
He began to develop an interest in klezmer, delving into the Ashkenazi music of his Polish roots.
During a trip to Auschwitz, where members of his family were murdered, Alexis discovered that his maternal grandmother had been a singer at Jewish weddings in Poland before the war. This inspired him to decide to focus on reinvigorating the joyful heritage of Ashkenazi Jewish culture through music.
He began to study klezmer – accordian and dance - seriously, initially on his own before he began taking classes all over the world with some of the great contemporary klezmer musicians in London, Paris, Weimar and Montreal. He began to learn from Alan Bern, Eddy Schaff, Zev Feldman, Kurt Bjorling, David Krakauer, Frank London, DJ SoCalled and Michael Alpert.
This was around the time that he met fellow musicians Michel Borzykowski, Ronald Grün and also Samuel Maquin, with whom he would go on to found les Mentsh.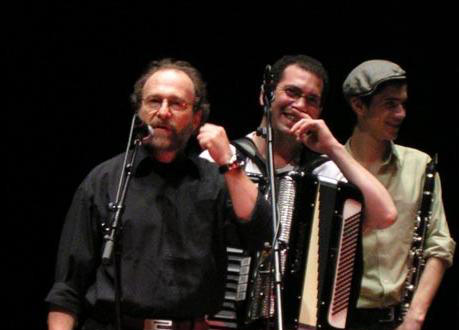 Michel Borzykowski, Alexis Kune and Samuel Maquin during a performance at the Maison de la Radio Suisse Romande, November 25th, 2006
Today Alexis thinks of himself as a modern day klezmer (klezmer musician) – a wandering musician who performs at weddings and other celebrations.
As he says : « Times have changed; instead of travelling from village to village by foot or by cart, as our ancestors did, we travel from city to city, from country to country, in cars, trains and aeroplanes. Sometimes the music is amplified, using electricity. But it is only the technical things that have changed: the tradition remains intact. ».
In 2008, after a two month tour of the US (during which Les Mentsh worked as Yiddish culture consultants for a production of Fiddler on the Roof in a Washington State high school), Alexis decided to increase his focus on education and transmission.
Since then he has had a regular slot at the Musée d'Art et d'Histoire du Judaïsme in Paris, where he has developed a programme of musical tours of the museum based around festival music. With his accordeon and tape recorder in hand, he introduces visitors simultaneously to the rich repertoire of Jewish festive music and to the treasures of the museum.
Since 2010 Alexis has presented a monthly radio programme on Judaïques FM on the theme of Jewish festival music, alongside journalist Lise Gutmann.
He also appears regularly at the Musée de la Musique in Paris (Cité de la Musique) with his accordeon and his klezmer repertoire.
He has recently been working on his own compositions, and in 2011 he composed the music for the musical comedy Tsvikèlè, about and with Tsvika Brojtman.
He also ran a Yiddish song workshop with the Berlin-based Yiddish singer Karsten Troike at the Maison de la Culture Yiddish in Paris.